L1049 Super Constellation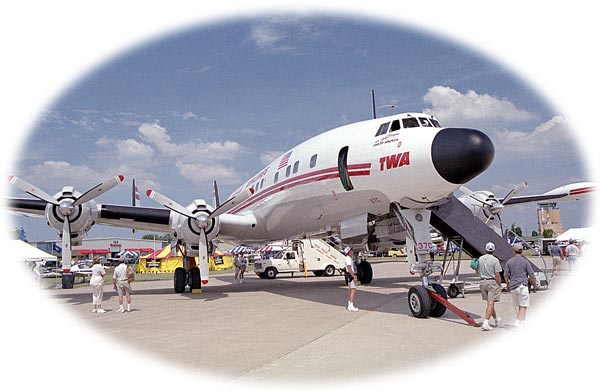 A total of 579 Super Constellations were built between 1951 and 1958 with 259 going to commercial operators and 320 to the US military. The US Navy was the largest operator of Super Constellations with a total of 204 transport and early warning radar aircraft. As early as 1949, Lockheed considered stretching the Constellation eighteen feet by inserting constant diameter fuselage plugs forward and aft of the wing. In order to expedite development, the first Constellation, c/n 1961, was purchased from Howard Hughes in May 1950 for $100,000 and modified as the Super Constellation prototype. Still powered by the Pratt and Whitney R2800 engines installed in 1945, the prototype made its first flight on October 13, 1950. After twenty-two hours of flight testing, R3350 engines were installed and the vertical stabilizers were enlarged by eighteen inches to increase directional stability.

The Super Constellation incorporated over 550 design changes and the first production aircraft flew on July 14, 1951. The type certificate was awarded on November 29, 1951 and the third production aircraft, N6203C, entered service with Eastern Airlines on December 17, 1951. Prior to 1953 all turbo-compound R3350 were earmarked for military use and the L1049 had to settle for 2,700 hp CA1 engines, which made it underpowered.

The Navy s R7V-1 transport, first flown in November 1952, was the first Super Constellation to utilize the turbo-compound R3350 engine. Turbo-compound engines became available for commercial use in early 1953 and 3,250 hp DA1 engines were first installed on L1049C Super Constellation PH-TFP, which was delivered to KLM on June 10, 1953. Later developments included twin 600-gallon wing tip tanks on civilian L1049G/H's and military early warning radar Super Constellations resulting in an extended range for these aircraft. The 3,400 hp EA3 and EA6 versions of the R3350 engine were installed on the L1049H cargo versions of the Super Constellation.

The USAF flew the Super Constellation into the late 1970 s with the US Navy retiring its last aircraft, BuN 141292, in June 1982. For all intents and purposes, commercial operation of the Super Constellation ceased in 1993 when the FAA forbid Dominican operators from operating their aircraft in the United States.
SURVIVORS
N105CF c/n 4137--->Disassembled Avra Valley, AZ and transported to Bridgewater, VA March 2016
N420NA c/n 4143--->Forward fuselage section stored at Wade's Salvage Yard in Atco, New Jersey
N4247K c/n 4144--->Stored at Qantas Founders Museum awaiting restoration
53-7885 c/n 4151--->On display National Museum of the USAF, Wright Patterson AFB, Dayton OH as "Columbine III"
54-155 c/n 4174--->On display USAF History and Traditions Museum, Lackland AFB, San Antonio, TX
HB-RSC c/n 4175--->SCFA unable to secure CHF 20 million to make FOCA mandated repairs and organization disbanded April 2019. As of April 2019, fate of aircraft undecided
VH-EAG c/n 4176--->Airworthy with Historical Aircraft Restoration Society (HARS), Sydney, Australia
54-160 c/n 4179--->Nose section stored in owner Antti Hyv rinen's backyard in Nukari, Finland
N1104W c/n 4196--->On display Udvar-Hazy Center, Dulles International Airport
54-180 c/n 4199--->On display Transport Aircraft Museum, Charleston AFB, Charleston, SC
HI-548CT c/n 4202--->Nose section salvaged to fabricate flight simulator. Located at "Runway 34 Restaurant and Bar" near Zurich Airport
N4257L c/n 4335--->On display at Castle Air Museum
N4257U c/n 4336--->On display Combat Air Museum, Topeka, KS
52-3425 c/n 4343--->On display Peterson Air and Space Museum, Peterson AFB, Colorado Springs, CO
BuN 137890 c/n 4347--->On display at "Connie Park" near the 552 ACW Wing Complex, Tinker AFB, OK
N51006 c/n 4350--->Forward fuselage section acquired by Dynamic Aviation in April 2017 and stored in Bridgewater, VA
N548GF c/n 4363--->On display at the Yanks Air Museum, Chino, CA
53-554 c/n 4369--->On display Pima Air and Space Museum, Tucson, AZ
53-555 c/n 4370--->On display National Museum of the USAF, Wright Patterson AFB, Dayton OH
BuN 141292 c/n 4416--->Forward fuselage section acquired by Dynamic Aviation in August 2018 and stored in Bridgewater, VA
BuN 141297 c/n 4421--->On display Museum of Aviation, Robins AFB, GA
BuN 141309 c/n 4433--->On display Aerospace Museum of California, Sacramento, CA
BuN 141311 c/n 4435--->Awaiting restoration at Yankee Air Museum
BuN 143221 c/n 4495--->On display National Museum of Naval Aviation, Pensacola, FL
F-BRAD c/n 4519--->On display Nantes, France
CF-TGE c/n 4544--->On display Museum of Flight Boeing Field, Seattle, WA
N1005C c/n 4557--->On display AMC Museum, Dover AFB, DE
D-ALIN c/n 4604--->On display Hermeskeil Museum Mosel, Germany
IN315 c/n 4614--->On display Indian Naval Aviation Museum, Hansa Naval Station, Goa, India
F-BHBG c/n 4626--->Derelict Quimper, France
5T-TAK c/n 4640--->Nose section and nose gear on display TAP Museum, Lisbon, Portugal
F-BHML c/n 4671--->On display FJ Strauss International Airport, Munich as D-ALEM
BG583 c/n 4686--->Stored Agra Air Base, India reportedly earmarked for restoration by the Indian Air Force Museum
N6931C c/n 4813--->Cockpit section in private collection in France
HI-542CT c/n 4825--->Stored Aguadilla-Borinquen Airport, Puerto Rico in deteriorating condition
N6937C c/n 4830--->On display at the National Airline History Museum in Kansas City, MO
CF-NAL c/n 4831--->Stored Sao Tome International Airport, Sao Tome
CF-NAM c/n 4832--->Stored Sao Tome International Airport, Sao Tome
N468C c/n 4846--->Fuselage section stored Blue Creek, Belize
CREDITS AND SOURCES
The Lockheed Constellation Series, Peter J. Marson, Air-Britain Publication, 1982, 2007
Piston Engine Airiner Production List, A.B. Eastwood and J. Roach, TAHS, October 2002
Lockheed Constellation, Stewart Wilson, Notebook Publications, 2001
Propliner Aviation Magazine
Your comments regarding this website would be very much appreciated. Please contact me about any errors you see and information you might have about a "Survivor". Photos of "Survivors" would also be very much appreciated.
Ralph M. Pettersen
----Created 17 January 2004------Updated 7 August 2022----