Constellation News
Super Connie Appears in Forgettable 1977 Moonshiner Movie - March 1, 2015

While not about a "survivor" and thus slightly off-topic, I decided to include this piece since I thought it would be of interest to most readers. I recently received an email from Duane Hester asking if I'd seen the 1977 movie "Thunder and Lightning," which featured Super Constellation CS-TLB in a supporting role. The movie, starring David Carradine and Kate Jackson, is about competing moonshiners and would be totally forgettable if not for the fact that it included some brief clips of the former TAP L1049G. After being retired by TAP in July 1967, CF-TLB was sold to Miami aircraft dealer International Aerodyne, where it was used for spares until being disassembled and mounted atop a restaurant near Naples, Florida in about 1971. Unfortunately, the aircraft was scrapped in early 1978 but it lives on in the movie, which can be viewed on YouTube. The Super Connie makes her brief appearances in the video at 1:19:11 and 1:21:16. For additional information about the aircraft, check the February 27, 2009 submission on this website's Q&A Forum.

Air Korea Starliner Photos from 1968 – February 28, 2015

Steve Miller recently emailed me two very interesting photos of Air Korea L1649A Starliner HL4003 taken on May 5, 1968 at Kimpo International Airport in Korea. Air Korea was a short lived Korean based airline that operated the Starliner on non-scheduled flights between Korea and South Vietnam from March 1967 to August 1968. While the Starliner was scrapped many years ago, its image is preserved in the form of former C-121A/L749A MATS Connie N494TW, which is on display at the Korean Air maintenance base at Jeju Island in Air Korea colors with HL4003 registration markings. The first two photos are of the Starliner and the last of N494TW. Many thanks to Steve for providing the two photos and the many other vintage photos he posts via the Classic-Propliners Yahoo Group.

Fox News Airs Piece on "Columbine II" – February 18, 2015

Tim Crowley seems to finally be getting some traction in his quest to publicize the plight of VC-121A 48-610/N9463 "Columbine II". On February 16th (Presidents Day) Fox News aired a short news piece on the aircraft and the need for this unique and historic aircraft to find a new home. CNN is also working on a news story to be aired in the not too distant future. It's great to see that the aircraft is finally getting some recognition. It's a shame that the bureaucrats at the National Museum of the USAF haven't shown any interest in acquiring "Columbine II" for their presidential aircraft collection. What makes this even more puzzling is the fact that they are currently building a new wing for the collection at Wright Patterson AFB.

Kermit Weeks Produced Video of Starliner N974R Final Flight – February 12, 2015

I was surfing the internet the other day and found a very interesting YouTube video about the ferry flight of Starliner N974R from Sanford, Florida to Fantasy of Flight on October 19, 2001 that was produced by Kermit Weeks. The 10 minute 39 second video starts out with a short history of the Lockheed Constellation followed by video of flight preparations, the takeoff from Sanford International Airport, air-to-air footage and finally the landing on Fantasy of Flight's 5,000 foot turf runway. I was at Sanford for the departure and it was quite a thrill to see the old girl take to the air one last time. I also remember Kermit's folks taking alot of video and, up until now, wondered if any of it ever got published. I'm glad to see that some of it did.

"Columbine II" Could Be Heading to New Home – February 7, 2015


Mel Christler's grandson, Tim Crowley, has been spearheading the effort to find a permanent home for VC-121A 48-610/N9463 "Columbine II" and his efforts appear to finally be bearing some fruit. The aircraft served as Dwight Eisenhower's first presidential aircraft and is the only primary presidential aircraft not preserved in a museum. The aircraft owners and Karl D. Stoltzfus, Sr. signed a formal "due diligence" agreement in late January 2015, which allows Karl 90 days to evaluate the aircraft's condition and the feasibility of performing a ferry flight to Bridgewater Air Park (VBW) in Virginia. Karl is the owner of Dynamic Aviation, which has operated DC-3 and more recently King Air aircraft out of company headquarters at VBW. A two-day preliminary inspection of the aircraft was performed in November 2014 and it was found to be in good condition with minimal corrosion. The engines were run in 2014 and, while the Curtis Electric props appear to be in good condition, they will probably have to be x-rayed prior to any flight.

Karl is currently undertaking a worldwide search for critical parts and technical help to restore the aircraft. He's reaching out to all his contacts for leads on L749A Constellation parts plus contact information on mechanics with the skills that will be useful in preparing the aircraft for a ferry flight. Locating the following parts is critical to the project moving forward:


Lower Engine Cowling. Cowlings were removed from the #1 and #4 engines a number of years ago and apparently someone decided one of them would make a nice souvenir. The cowling is crucial to a ferry flight and it would be a shame if the aircraft was left behind at the airport and scrapped due to a missing cowling. Hopefully a cowling can be found or the missing cowling returned.
17:00-20 main wheels
Six-puck Goodyear single disk brakes
Tires
Exhaust stacks
Civilian R3350-749C18BD or military R3350-75 engines

The final decision on the purchase is dependent on the success of this search followed by the successful completion of a comprehensive pre-buy inspection. If the decision is made to move forward with the project, the first phase will be to make the aircraft airworthy for a ferry flight from Marana, AZ to Bridgewater, VA. The ultimate goal is to return the aircraft to fully airworthy status and participate in the airshow circuit. This decision will be made once the aircraft has arrived in Virginia. Karl plans to launch a small museum at Bridgewater Air Park, which will include a hangar for Columbine II and his aircraft collection, which includes a beautifully restorted C-47, a T-6G, Stearman and Beech 18. He is deeply committed to Columbine II as a matter of principle because of his sense of the need to communicate "heritage" to the younger generations.

Karl's brother Ken is the project's communication coordinator and can be contacted via email. For more information, check out the project website. The website also contains a nice collection of current photographs.

Museum of Flight Super Constellation Moved to Make Way for Construction of New Exhibit Hall – February 3, 2015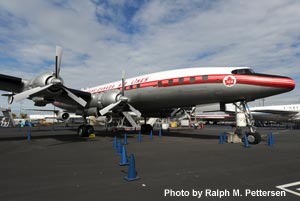 The Museum of Flight moved Super Constellation CF-TGE on Saturday January 31st from the museum's Air Park to the berm behind the museum. The Super Connie was positioned next to the museum's B-47 51-7066, taking the place of B-17 NL17W/42-29782 which had previously been on display at this location. According to Bob Bogash, the Super Connie was one of four aircraft moved from the Air Park location to make room for the start of construction of a new covered Air Park, which should be completed in about two years. Check out Bob's website for a full report on the move.

Interesting Photos Received from Website Visitors – January 23, 2015

I recently received some interesting photos from website visitors. The first set was from well-known aviation photographer Ron Mak and included photos of C-121J N4247K taken at Arlington, WA back in June 1986 before the aircraft departed on its ill-fated mission across the Pacific. Check out the cockpit and cabin photos and compare them to current photos. Hopefully it won't be too long before the aircraft is out of Manila and on its way to Australia for restoration by the Qantas Founders Museum.

The second set of photos are of 48-610/N9463 "Columbine II" taken at Andrews AFB in May 1991 by John Benton. The aircraft had recently been restored by Mel Christler and Harry Oliver and was on display at the base's annual open house. John was stationed at Naval Air Facility Washington at the time and managed to hang around after the show was over. He was rewarded with a ride in Columbine II when the crew taxied her over to the tower for some "official" photo ops. I had recently moved to Maryland and made an unplanned quick visit to the show where I was pleasantly surprised to see this historic aircraft on display. Unlike John, I didn't have my camera with that day and wasn't able to capture that very unique moment in time.

The third set of photos are of the "Breitling Connie" HB-RSC taken at RIAT-Fairford in July 2013 by Peter Fothergill. This aircraft is the most photographed Constellation of all time and hopefully she will remain active on the European airshow circuit for many years to come.
Last, but not least, is an interesting photo of one of the engines from L1049G 121J 5T-TAF taken by Eskender Ganiev in October 2014 and forwarded to me by Stipe Zivaljic. The Biafran Airlift veteran was used as a restaurant from the mid-70's to mid-80's in Kirkop, Malta before it was adandoned and finally burned by vandals on January 30, 1997. Its remains, including the wings, undercarriage and engines, were acquired by the Malta Aviation Museum Foundation.

Lufthansa Starliner Restoration Project Update – January 2, 2015

Happy New Year to everyone! Back on October 3rd I promised a report on my visit to the Lufthansa Technik hangar in Auburn and, while it took a bit longer than I anticipated, I hope it's worth the wait....

It had been a year since my 2013 visit to Auburn-Lewiston Airport (KLEW), where Lufthansa Technik is in the final phase of an incredible 6+ year restoration of Starliner N7316C. Having received approval from Lufthansa Technik North America for a October 1, 2014 visit, I arrived at the Lufthansa Technik hangar with fellow Constellation enthusiast Pete Ferraro. In order to keep work disruptions to a minimum, visits to the hangar now require prior approval. A "no-photography" policy has also been implemented at the hangar so no current photographs will be included in this update. There have been a number of management changes during the past year and we were greeted by Heiko Schroth, who joined the project in June 2014. Heiko is responsible for operational support/procurement and he and production manager Eddy Weber manage day-to-day operations. Andreas Pakszies assumed overall management of the project in early 2014 and all three men are veteran Lufthansa Technik employees with many years of experience in their respective fields.

Deutsche Lufthansa Berlin-Stiftung acquired N7316C, along with Starliners N8083H and N974R in December 2007 and, while N7316C hadn't been operated by Lufthansa, it was judged to be in the best condition and thus the best candidate for restoration. Lufthansa's ambitious goal of restoring N7316C to strict current airline standards considerably increased the scope and complexity of the project and it's safe to say that a static display restoration would have been completed years ago. When the restoration is complete, the aircraft will receive a standard airworthiness certificate with no restrictions and will be certified to carry passengers.

It didn't take very long to realize that the project had kicked into high gear, with the hangar a beehive of organized activity. Heiko said that 120 employees were working on site with a goal of increasing that number to 140. The operation runs seven days a week with two 12-hour shifts Monday through Friday and a single 12-hour shift on weekends. Sheet metal and structural mechanics are in high demand and have been actively recruited to supplement the current 70 man mechanic workforce. Standards are very high and once a prospective candidate arrives, they are given a practical test before being allowed to join the project. The workforce is truly international with mechanics from Shannon Aerospace in Ireland and Lufthansa Technik facilities in Budapest, Hamburg, Frankfurt and Manila. These folks were recruited because of their specialized skills, which have proven to be invaluable. In addition to the journeymen workforce, twelve apprentice mechanics from Lufthansa Technik in Hamburg rotate through on four to six week assignments.

Parts management is a critical function of any production program and Lufthansa Technik was faced with some unique and challenging problems. In addition to the enormous amount of parts involved, there were quite a few parts using materials from the 1950's that were either no longer available or no longer suitable for use. Magnesium and asbestos parts are just two examples. Since only 44 Starliners were built by Lockheed and the last one was built 55 years ago, many parts are very scarce and hard to come by. One example is passenger windows, which were found only after an exhaustive worldwide search. Other parts were not available and had to be manufactured using original Lockheed drawings. There are also parts that couldn't be manufactured using these drawings because materials weren't available and new drawings had to be created and approved before replacement parts could be manufactured. Some original drawings were not detailed enough and the production team resorted to using N8083H as a template. An example is the hydraulic tubing, which was removed from N7316C at the start of the project. Using tubing from N8083H as a pattern, 1,500 pieces were fabricated in Hamburg with the remaining pieces now being fabricated in-house. This was done to save time and is led by a retired aircraft tubing expert with assistance from a group of very capable German apprentices. Another source of help has been the German military, which flies the P-3 Orion. The P-3 was first flown in 1959 and a number of parts are very similar to the Starliner.

Material planning, parts inspection, NDT, painting, heat treating, storage and parts kitting are performed in nearby Building 2, thus freeing up hangar space for production activity. A number of these functions were brought in-house to reduce lead times including heat treatment. Heat treatment lead time was reduced from 6 week to 24 hours by doing the work in-house. Used parts are inspected in Building 2 and a determination is made on whether they can be used as is, refurbished or need to be scrapped. Material planning and inventory management has been computerized and the system was being used during our visit to kit parts for the production effort. In addition to the in-house staff, the project team has utilized retired Lockheed production planners that are very familiar with Lockheed processes and procedures. While none worked at Lockheed during the Constellation production era, their knowledge and insight have proved very helpful to the project.

While the aircraft was still supported in cradles and surrounded by scaffolding, significant progress had been made since my last visit, with sheet metal and structural work nearing completion. One of the remaining items to be completed is the keel and beam assembly, which was being worked on by a group of Lufthansa Technik mechanics from Hamburg and Frankfurt. Once this is finished, the three center section fuel tanks can be completed and pressure tested. The structural modifications required to accommodate the front and rear passenger doors have been completed and the doors are ready for installation. A significant milestone was achieved this year with the successful pressure testing of the four wing fuel tanks. Reassembly of the wing has begun and, when completed, will include newly manufactured deicer boots. The tail structure is being rebuilt in Auburn by a group of Lufthansa Technik sheet metal mechanics from Manila. Heiko estimates that at project completion, 85% of the original structure and sheet metal will have been replaced.

The landing gear assemblies were refurbished at the Lufthansa Technik facility in Hamburg and illustrate just one of the many unanticipated challenges encountered during the restoration. A detailed inspection by the Hamburg technical staff determined that the landing gear assemblies were in much worse condition that originally thought. Adding to the problem were incomplete or missing drawings in repair manuals and the need to replace materials that were no longer available or suitable for use. Including brake and hydraulic components, the landing gear assemblies required over 80 special repair procedures. New landing gear brackets were required and they will be milled rather than forged. Drawings were prepared and plastic parts for fit checks were created using a 3D printer. With fit checks confirming the design, the new landing gear brackets can be manufactured with a high degree of confidence.

Four R3350 engines have been overhauled by Anderson Airmotive, with the spare 5th and 6th engines to follow. Four of eight propellers have been refurbished at Hope Aero in Toronto, Canada as have all of the spinners. When propellers are refurbished, metal is removed and the remaining four propellers are near the limits of what can be removed. Lufthansa Technik is currently in discussions with the South African Airways Museum to exchange these propellers for those that had been installed on the museum's static display Starliner ZS-DVJ. Previously the museum allowed the use of the passenger doors from their Starliner in exchange for two non-airworthy doors, so hopefully a deal can be struck.

The cockpit will receive a total makeover to bring it into compliance with current standards and requirements. Honeywell has adapted their C-130J glass cockpit, which includes state-of-the art displays for both the captain and first officer. The overhead panels have been completely redesigned and modern radios, including a TCAS, will be incorporated. Constellations were different from their Douglas counterparts in that they had a dedicated flight engineer position and instrument panel. The existing flight engineer panel will be refurbished and used for flight certification testing in the United States. Once testing is complete, the project will enter Phase II when a redesigned panel will be installed. As with the original pilot instrument panels, the flight engineer panel was arranged in an illogical manner with system components spread across the panel. In a joint effort between Deutsche Lufthansa Berlin-Stiftung (DLBS) and Lufthansa Technik, a new panel was designed in accordance with current design standards. While instruments on the new panel will be located in different positions, they will perform the same functions as before. One change will be the incorporation of a new engine graphic monitoring panel, which will visually display multiple exhaust gas and cylinder head temperatures. The current gauge only displays these parameters for one cylinder at a time and the multi-cylinder display will allow the flight engineer to better monitor engine performance and spot individual cylinder deviations much easier.

The passenger cabin will be installed in Maine during Phase 2 and will include 44 A300 business class seats that are being refurbished in California. Three fuselage mockups have been built in Hamburg and second and third year apprentices are fabricating interior components. To reduce costs and save time, B737 and A320 cabin components are being adapted for use, including overhead baggage racks, passenger service units, air ducts, passenger oxygen units, toilets and the front galley. Once completed they will be temporarily installed in the mockups allowing fit checks to be performed and also providing the cabin design staff a realistic look at the completed cabin. This approach allows production of these components in parallel with the work being performed in Maine and minimizing issues when it's time to install the cabin interior in the aircraft.

The two other Starliners have also played an important role in the restoration of N7316C. Before being donated to Fantasy of Flight in Polk City, Florida, many useful components were removed from N974R for use on the project. Made externally complete, the aircraft was on display at the museum until it recently closed its doors to the public. The aircraft appears to be safe for the time being as the restoration facility is still open and Kermit Weeks plans on reinventing the facility as an aviation theme park. N8083H is parked next to the restoration hangar and, in addition to providing many useful parts, it has served as an extremely useful reference point during the restoration. I asked Heiko about the plans for N8083H and he said it still wasn't decided but that it wouldn't be scrapped.

Frank Sangers recently forwarded me a link to a 29 minute YouTube video of a publicity film made by Lufthansa in 1958. The professionally produced high quality film beautifully illustrates airport operations at Hamburg Airport and a family taking a flight on a Lufthansa Starliner from Hamburg to Chicago. Unfortunately, the narration is in German but the video is definitely still worth a viewing.

I'd like to thank Lufthansa Technik for allowing the visit and especially Heiko Schroth for taking the time out of his busy day to answer our many questions and for escorting us around the facility. I look forward to being in Auburn when the aircraft is rolled out in 2015. For additional current information about the project, check out the Deutsche Lufthansa Berlin-Stiftung website.



See Constellation News Archive - 2014 For Additional News







----Created 31 January 2004------Updated 1 March 2015----